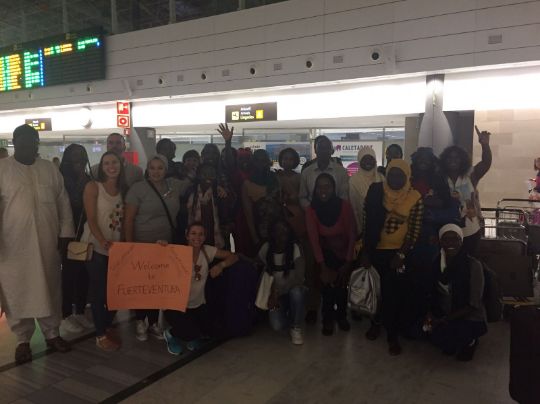 Day 1. Welcome to Fuerteventura
Monday, October 30, 2017
It's 1pm in Dakar and we met together at the airport Leopold Sedar Senghor to take our flight for Gran Canary. The wait was long but the plane finally arrives around 02:00 PM.
Some of us were exited and the others a little bit afraid because for most of us it was our first time taking an airplane, but at least we arrived at the Gran Canary airport. We suffered through to take our flight for Fuerteventura because the airport was bigger than Dakar's one and we had to run to catch our correspondence to Fuerteventura. Around 07:00 PM, we finally arrived at Fuerteventura.
Some of the Spanish girls came to welcome us. The bus came and went to the hotel to see our rooms and drop our stuffs. We do a little meeting and a boy which name is Rico gave us our tickets for the restaurant where we will go to take breakfast and lunch during all the stay. After that we went to the restaurant to have dinner. Choosing the meal was not easy because the menu was in Spanish somehow Momar came and help us. We finally have our dinner and get back to the hotel where each girl goes to her room and pack off their baggage, take a bath and sleep. We end up this day being very tired but happy cause we finally come to Fuerteventura.
By Amina Cissé and Fatima Kh. Fall