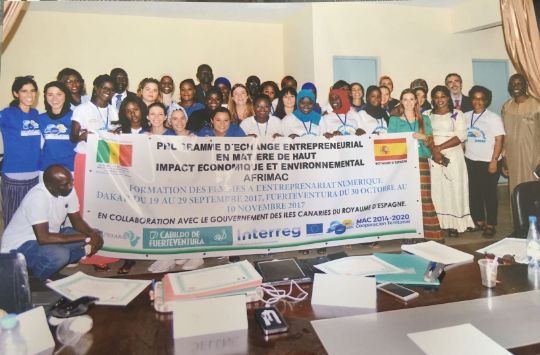 Day 10. Last day in Senegal, an enriching experience
Dákar, 28 de septiembre 2017
We are getting close to the last day of this enriching experience; Afrimac Fuerteventura says goodbye for the moment, and we will see each other in the future with great expectations, waiting for the second session to see our friends from Senegal when they come and visit us in Fuerteventura.
Today we shared and compared all the processes that we have learned. It is a really great innovation to allow co-working between the Senegalese and Majoreran people: it has been very enriching to have shared knowledge with different professional such as engineers, computer analysts, teachers, translators, journalists, etc which has provided good ideas for future projects together.
Formation. We finished our formation with the teachers by filling in a questionnaire about our opinions regarding the classes, doubts, and new improvement proposals in the of how the classes could be given to us. It is very important to evaluate the process and correct difficulties we encountered.
The Afrimac organization finished the project with a social get-together, singing, taking pictures and dancing, which filled our hearts with joy. We also received a certificate showing our participation in Afrimac Sejour.
The day has not finished here. We went to have lunch as a group with the project's coordinators and visited the Telecommunication and Postal Ministry of the Senegalese government. This visit was very important for the good connection and cooperation with the Senegalese government. The coordinator gave many thanks to him for the support of the project and the invitation to participate in the next Africagua.
Today also is the last day that we have walked along Dakar streets giving food and drinks to families that live on the streets. It gave a great feeling helping these children that live like this with nothing. (Thanks girls for sharing fruit, water, bread and happiness with them)
We are saying our last goodbyes to this country, doing a bit of shopping, looking through souvenirs, etc. Absorbing the colors, smells, sounds and watching the people.
Many thanks to my group, human and professional women. Thanks to MOmar for being a witness in this process of the women empowerment. Thank you to my Senegalese friends for everything.
Dieredieuf ( wolof-thanks)
Going back home tomorrow !!
Davinia C. Vidal Estévez