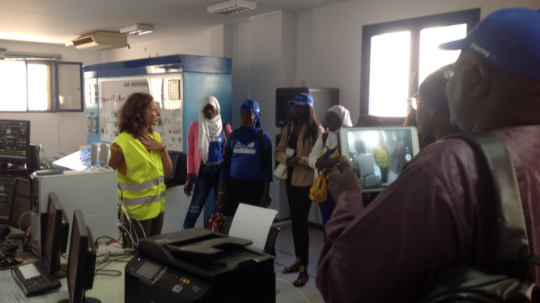 Day 2. We visited the Consorcio de Abastecimiento de Aguas a Fuerteventura
Tuesday, October 31, 2017
At 8:00 we went to the restaurant Alamana located not far from our hotel to have breakfast, and Take the bus at 9:15 towards the Technological Park of Fuerteventura for the training.
The training started at 9:40 with a presentation of the two trainers, the participants received badges with their names to facilitate their identification. After that, a questionnaire was given to the different participants. After answering the various questions, everyone took the floor to give their answer on the questions asked to the trainers to give each participant the opportunity to talk about her life, her project and these expectations.
At 11:00 the president of the Cabildo de Fuerteventura organizer of this training came with his team and journalists for an official opening of the second training phase between Spain and Senegal. Before leaving, they handed bags, t-shirts and caps to all participants. After their departure at 11:40 a coffee break was observed until 12 before resuming training and continue to answer the questionnaires with the same process that is to give the floor to each girl.
After the questionnaire was exhausted, we did an exercise on the different characteristics that can differentiate between a man and a woman. After this exercise, the lunch break was observed at 14:00.
After the lunch break around 15:30 we went to visit the desalination center before leaving for the hotel at 17h. To finish this first day of training we went to the mall before going to dinner and back to the hotel. All the way from the center to the hotel was done on foot to discover the city of Puerto Del Rosario.
Magatte cisse and Fatou Sarr Aminta Maiga