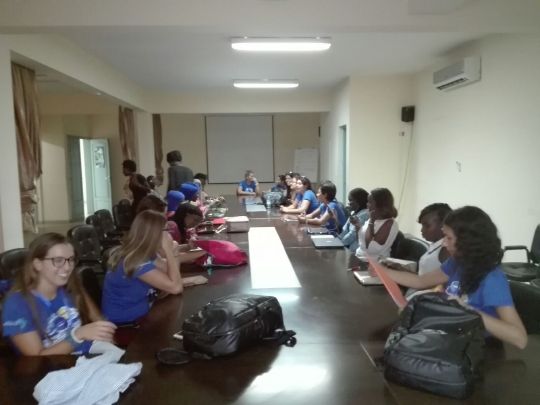 Day 2. Second day of work in Senegal
Second day of work here in Senegal. Following initial contacts, we are about to start the training at Saga Technologies. The building houses GIABA headquarters, an institution of the Economic Community of West African States responsible for facilitating the adoption and implementation of Anti-money Laundering.

The reception is a total success and after a few formal presentations and listening to the local authorities' speech, we meet the girls that will be our co-workers throughout Afrimac Programme: twelve charming women coming from diverse fields of study. We share some games to start knowing each other and little by little, this exercise enables everybody to break the ice and feel more comfortable. After a small snack, it is time to refresh our minds and open the schedule with an intensive course on Leadership Development.

It doesn't work out all smooth at the beginning and we face certain small problems to start debating, to mention here the language barrier issue. It isn't easy to maintain an active class with a group of almost 30 people trying to express their own views and who come from different cultures. Still, we want to exchange knowledge and manage to understand each other. Spending a three-hour class with our colleagues makes us realise how privileged we are having such opportunity to share concepts with these women.

Six hours later, 18:00 pm. We've had a very productive first day, made some exercises and touched some basic concepts on how to be a good leader. Back in our rooms, it's time to rest and regain strength for tomorrow.
Melania Brito Clavijo.