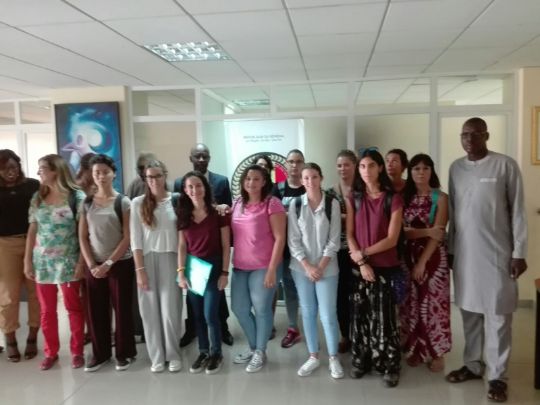 Day 9. Visit to the ombudsman
The class dynamics changed slightly today with a morning visit to the Ombudsman Office. A relevant figure in Senegal and relatively new. After the committee welcomed us, we proceed to listen to the speech from representatives of the Institution, including the Secretary for Cooperation and Communication.
Several data got our closed attention. The figure of the Ombudsman is attached to that of the Deputy of the Common, and his election is not done through elected account, but rather it is straight appointed by the President, which is noticeable different from our electing system. Nevertheless, the committee highlighted their efforts to keep its activity independent.
The representatives continued with the number of complaints received annually, scarcely 500. We are told that most of them come from the civil service because of their lack of Administrative Court. The main issue currently faced is the expropriation of land and plots, etc. Besides, they indicated their willingness to improve the external communication of the Institution, so that we understand the number of requests they usually receive would be increased when their tasks were well known. In addition, obstacles all of kinds are pointed out by the representatives, since they must overcome all kind of economic interests.
When we have the chance to ask some questions, we noticed that the speakers are especially encouraged seeing our interest to know more about the Institution and the country problems, especially regarding gender equality. Afrimac is a women's empowerment project and being so, we decided to ask about their role on the Ombudsman Office and if the hold positions with a certain degree of responsibility. It seems that women only occupy for now administrative positions without relevant significance. However, they indicate that the Senegalese Government do have women as public office.
In line with the issue of women's representation, specific questions were addressed on what is being done from the Institution in relation to that. Mainly, their corresponding Equality Institute is handling this issues, so yet there is not a specific area on the Ombudsman Office.
Furthermore, they insisted on the great amount of managerial competence the Ombudsman Office has, although what they call «New Rights» related to Environment and Women challenges (the big issues of our project Afrimac) are hardly managed by them. After many questions on hot topics such as female ablation or waste management, and to their bewilderment, they refer us to the awareness campaigns that NGOs are developing along with the Government. The Ombudsman figure recognized then being quite intrigued by the amount of our deeply and profound questions.
After such a heightened interview, we returned to class ready to face a particularly hard training day. The accumulated fatigue dented in our capacity of immersion, but the connection established with our Senegalese colleagues cheered us up once again.
To be continued…
Kris Gómez.