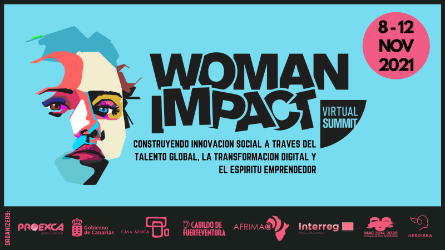 november 10, 2021
WOMAN IMPACT SUMMIT BRINGS TOGETHER ALMOST A HUNDRED SPEAKERS TO STRENGTHEN THE EMPOWERMENT AND LEADERSHIP OF WOMEN
Around 3,000 people have registered for the activities of the second edition of this virtual forum.
Almost a hundred women entrepreneurs from around the world participate as speakers in the second edition of the 'Woman Impact Summit', the virtual forum aimed at promoting female leadership. Around 3,000 people from all continents have already signed up for the activities that take place from November 8 to 12, an initiative that was born within the framework of the AFRIMAC 2 project led by the Cabildo de Fuerteventura from its Strategic Projects department.
The objective is to empower women, enhance their participation in entrepreneurship initiatives, as well as give visibility and access to women around the world, bringing together entrepreneurs and businesswomen from the European Union, Africa, America and this year also, as a novelty, of the Asian continent.
According to the area counselor, Lola García, "from Fuerteventura we are leading this international event. We have made progress as a society in the area of ​​equality, but unfortunately we are still halfway there. Inequality continues to be visible in all labor and economic sectors ".
"With this meeting we want to give visibility and access to women around the world, reducing the existing gap. Participants will have the opportunity to create personal connections that can drive business and ideas. In addition to learning about leadership skills, "adds García.
The event will take place over five days and includes B2B meetings, training sessions, panels, talks, speakers, networking opportunities and much more. All the information can be consulted on the Woman Impact Summit website.
The virtual forum 'Woman Impact Summit' is possible thanks to the collaboration between the Cabildo de Fuerteventura, Government of the Canary Islands, the Canarian Economic Development Society (Proexca), Casa África and the Heroikka Association.
For its part, AFRIMAC 2 is being developed within the framework of the II Call for the INTERREG V-A Madeira, Azores and Canarias (MAC) Territorial Cooperation Operational Program 2014-2020. The program is financed 85% by ERDF funds.
Notice collected from the website: http://www.cabildofuer.es/cabildo/woman-impact-summit-reune-a-casi-un-centenar-de-ponentes-para-reforzar-el-empoderamiento-y-liderazgo-de-las-mujeres/