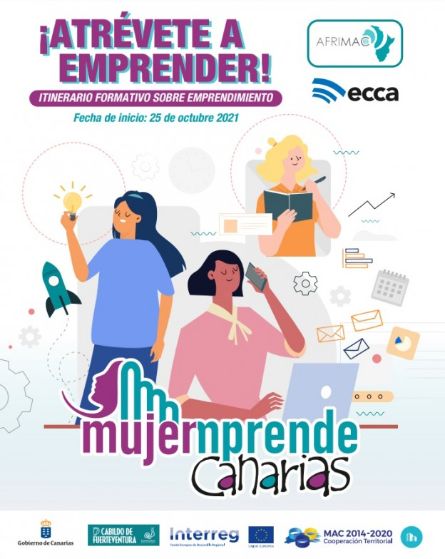 october 19, 2021
CABILDO AND RADIO ECCA ENCOURAGE WOMEN TO ENTREPRENEUR WITH A TRAINING ACTION FROM THE AFRIMAC 2 INITIATIVE
The Cabildo de Fuerteventura and Radio ECCA have launched a training action aimed at Canarian women who wish to start in the world of entrepreneurship or those who already have their own business and want to delve into some concepts. Under the title 'Mujer emprende: atrévete a emprender', the course is part of the AFRIMAC 2 initiative led by the Island Corporation from the Department of Strategic Projects.
According to the Minister of Economic Promotion, Lola García, "these actions complement and strengthen the capacities of the participants in the task of undertaking." It also highlights that the course "encourages developing an entrepreneurial vision, fostering local entrepreneurial capacities and creating an innovative environment in the territory."
This virtual training will begin on October 25, with ECCA certification of 25 hours. Interested persons have until this Friday, October 22, to register.

In addition, it is proposed that women who have successfully completed this training and are interested in expanding their knowledge access the entrepreneurship and innovation programs that will begin on November 15 and that are part of the Smart Island Fuerteventura initiative. A training that aims to give the participants a more specialized intermediate level, thanks to the AFRIMAC 2 and Smart Island alliance.

Notice collected from the website:
http://www.cabildofuer.es/cabildo/cabildo-y-radio-ecca-animan-a-las-mujeres-a-emprender-con-una-accion-formativa-de-la-iniciativa-afrimac-2/