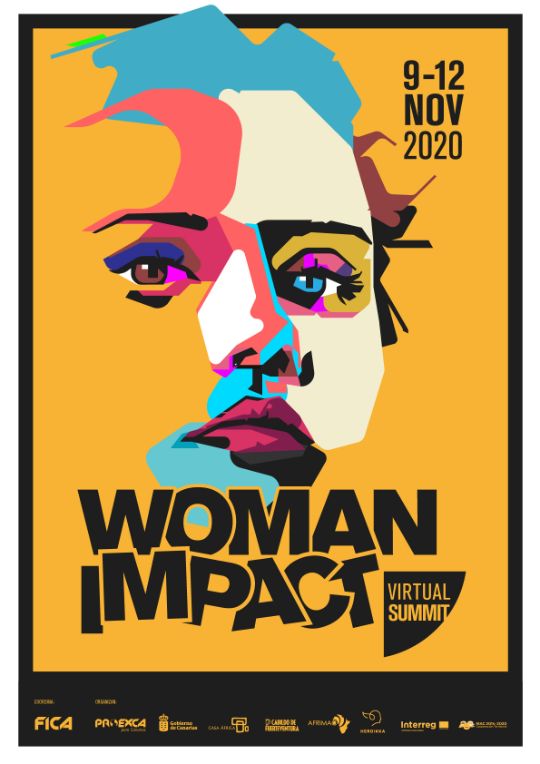 WOMAN IMPACT SUMMIT, THE VIRTUAL INTERNATIONAL EVENT FOR WOMEN
AFRIMAC 2, in cooperation with Radio ECCA and the Vice-Ministry of Foreign Affairs of the Canary Islands Government, is organizing, together with PROEXCA, Casa África and Heroikka, the international online event Woman Impact Summit, which aims to give visibility and encourage access to women entrepreneurs in Fuerteventura in particular and in the Canary Islands, West Africa and the world in general. This virtual event is completely free.

The Woman Impact Summit mission is to share the different ways in which government institutions, the private sector and the regional leaders working on special initiatives for women address economic opportunities.

This event will take place over 4 days, from 9 to 12 November 2020, in which B2b meetings, training sessions, panels, fireside chat, keynotes speakers, networking opportunities and more will be included, all of it coming from leading female figures from all over the world (Europe, Africa, Latin America, North America and other parts of the world).

Some of the panels that will take place during these days are:

Panel: How to be an entrepreneurial woman and succeed in Europe?
Panel: Policies to Empower Women in Africa.
Panel: Access to Investment.
Panel: Community leading entrepreneurship. 
And many more!
Among the speakers already confirmed we find: 

Elena Máñez, Regional Ministry of Economy, Knowledge and Employment
Amparo Osorio, Managing Director of Radio ECCA
Ángel Víctor Torres, President of the Gouvernment of the Canary Islands
Blas Acosta, President of the inter-island council of Fuerteventura
Maggie Berry, Executive Director for Europe, WeConnectEurope  Mame Coumba Ndiaye, AEME (Senegal)
Sonia Garza, National vice chairwoman of Asociación Mexicana de Mujeres Jefas de Empresa
And many more that you can find in the
Woman Impact Summit
website.
The registration for the event will open soon, so stay tuned and do not miss out on this great event!
Click on the following link if you want to visit the Woman Impact Summit website and get more information: https://womanimpactsummit.com/en/