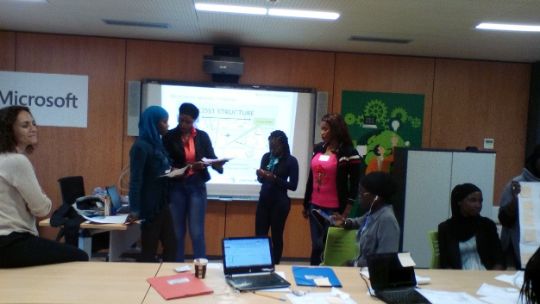 Day 5. Exposing our business projects
Friday, november 3, 2017.
We woke up at 07:00 AM and we went together to the restaurant Aleman and we had taken our breakfast and the car came at 08h45 AM we took it and went to the Parque Technologico for courses.
Arrived at Parque de Technologico we had started the presentation of women's projects.
Presentation of senegalese women's projects.
We have started at 09h20 with Mariama Ndiaye's project called "Yobantema" which allows to send luggage distance by an application.
After that Seynabou Ndiaye comes to talk us about her project to clean the solar panels automatically via Internet Of Things.
And here Ndèye Dieundei Lèye told us about her project named "Sama stock" which puts order in the stocks of the stores with an application and Internet Of Things.
After comes Mrs Diop Magatte Cissé she has done like Amina Maiga's project about agriculture.
Fatou Sarr explain to us her project secourism and how to help young women to use new technologies easily precisely computer sciences. 
Then come three lovely girls there are Ndèye Fatou Mboup, Aminata Cisse and Fatima Khourédia Fall who told us about their project BOS (Build Our Security) aimed at strengthening the safety and the security of the see by using IOT for bettering their living lives and doing at the same time the promoting renewable energies such as solar used for power supply and fight against the environmental pollution with batteries discarded into the sea.
Moussou a great shopkeeper she sells her products by an application and have modernize the way of selling in our country using technologies; her project name is "Business Dakar Casa".
Coumba is the leader of "DalalAkDiam" she creates her own business and develop her program based on management and the hospitality of people.
Aminata Maiga whose project named "Passeport Agriculture" she is an developer and has created an application which allows us to buy our products on line and checking the improvement of the basement while doing planting.
Selene a very lovely girl who told us about her project allowing us to buy our products on line like makeup furniture all we need.
Mame Thiaba Diop wants to change mind's people while they are so young that's why her project turn around children so she wants to create an application which shows good ways for children to go on and bad ways for children to avoid. Her project name is "DeuxCoupsWay"'. 
Mrs Cisse Marième Ndiaye who is a member of Jiggen Tech Hub. She creates an application to check the health's woman thoughout pregnancy.
And the last Ndeye Ndjira Diagne a very lovely girl who told us about her project importation and exportation of goods and service of office equipement all we need.
After that we took lunch there and the bus picked us up and dropped us off at the hotel. And we have free time the whole evening and we took the opportunity to go the mall (center commercial what I mean ) and the night we went at the bar right next to the hotel "la tierra" and the bartender put us Senegalese songs we danced all evening and Spanish people always so kind paid for us the drink and the customers were increasing hearing Senegalese music they were curious to know what was going on it was really fun!
We return back at 02h:00 AM to the hotel and everyone went to her bedroom to sleep.
That's what happened the Friday thank you a lot and for all beautiful days it is really wonderful!
Ndèye Fatou MBOUP