AFRIMAC 2 and the Finnova Foundation open the project submission period for the WOMEN STARTUP EUROPE AWARDS, SPECIAL EDITION FUERTEVENTURA
Actions aimed at entrepreneurship for women in the Canary Islands, Cape Verde and Senegal
International online event focused on women's entrepreneurship
AFRIMAC selected for the publication 'The postcards of inclusive growth' of the INTERACT programs of the European Union
Interreg celebrates 30 years: NEIGHBOUR
Island Emergency Plan COVID-19 of the Island Council of Fuerteventura
AFRIMAC 2
In global Alliance for WEST AFRICA DEVELOPMENT
whAT'S AFRIMAC 2
AFRIMAC 2 is a program for business, technological, entrepreneurial and innovative exchange in matters of high economic impact between the Canary Islands and West Africa.

The main objective of AFRIMAC 2 is to improve the internationalization of companies in the cooperation area through the creation of networks and the generation of a knowledge environment with a gender approach.

This project has a budget of 971,340.53 Euros, of which 85% belongs to the ERDF Funds.

This initiative is carried out from the Planning and Strategic Projects unit of the Cabildo of Fuerteventura

Specific Objetives of afrimac
To capitalize on the tools for the promotion of the knowledge of the existing business opportunities in the international field in the complementary emerging sectors of the Canary Islands from the gender perspective, influencing the improvement of the productive potential of women.
To strengthen the business networks created and to encourage the creation of new joint business initiatives by promoting equal participation of women and men.
To increase the competitive potential and entrepreneurship in the cooperation space with a gender approach.
These objectives are included in the United Nations Sustainable Development Goals.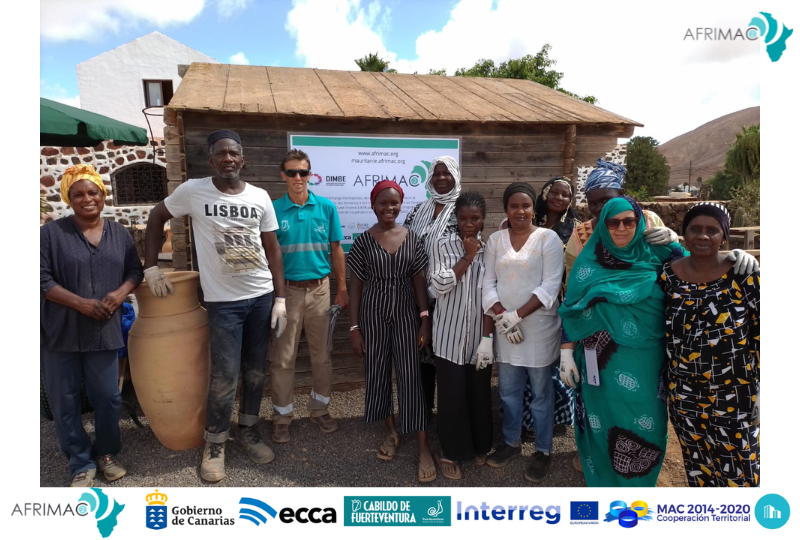 WE STARTED TRAINING IN AGRICULTURE FOR MAURITANIAN WOMEN IN FUERTEVENTURA


On the 14th we began with training in entrepreneurship in the cultivation of raw materials for Mauritanian women living in Fuerteventura on knowledge in agriculture. This initiative has emerged from the collaboration between AFRIMAC 2 and the Multicultural Association of Mauritanian Women DIMBE.

The objectives of this are to bring training and education to the territory and support for entrepreneurship, innovation and female socio-labour development for Mauritanian women in Fuerteventura and Mauritania.

September 22, 2022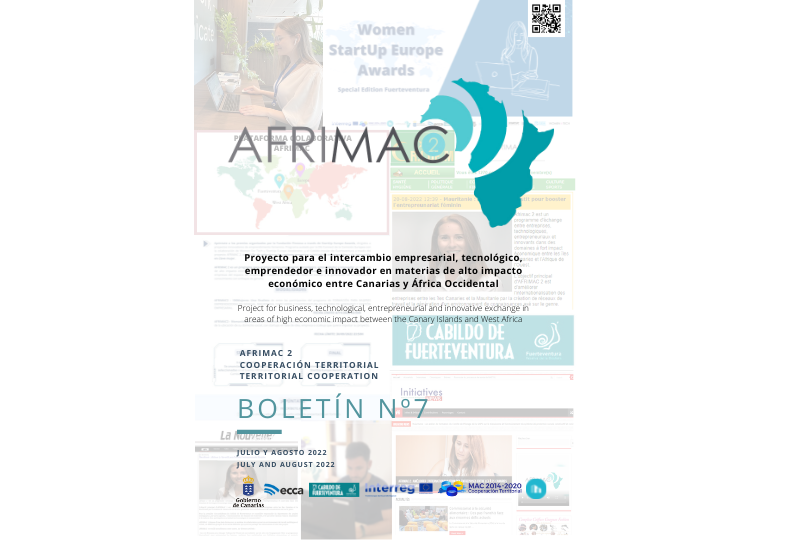 BULLETIN N.º 7: JULY AND AUGUST 2022



The seventh monthly bulletin of AFRIMAC 2 corresponding to the months of July and August 2022 is now available.
In this edition we will talk about:
The

Women StartUp Europe Awards, Fuerteventura Special Edition

.

Actions for the Empowerment of Female

Entrepreneurship from

Mauritania

The

AFRIMAC Collaborative Platform
We will also have in the "We talk to" section, with Natalia Cediel Contreras, Head of Communication and International Cooperation of the Finnova Foundation, and Saúl Perdomo Marrero, Coordinator of AFRIMAC 2.
Do not miss it!
September 07, 2022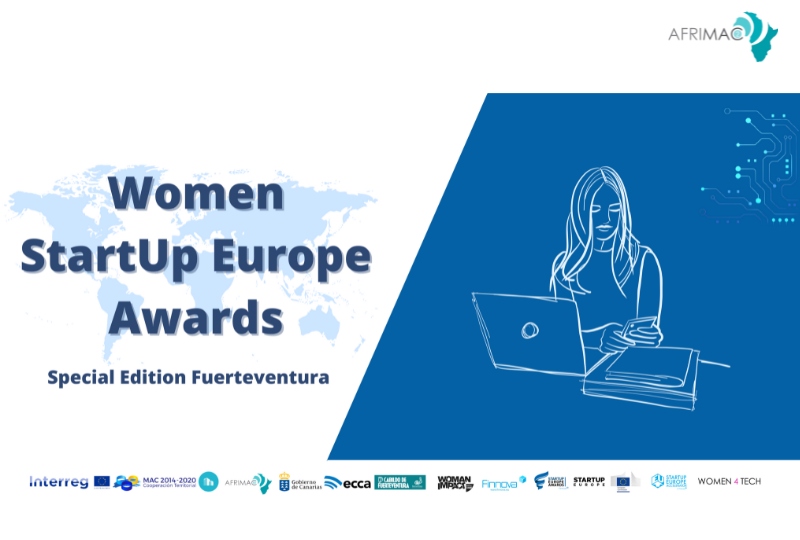 AFRIMAC 2 and the Finnova Foundation launch the Women StartUp Europe Awards, Fuerteventura Special Edition

The WOMEN STARTUP EUROPE AWARDS, FUERTEVENTURA SPECIAL EDITION, are an initiative of the European Commission to connect high-tech startups, scaleups, investors, accelerators, corporate networks, universities and the media.

These awards are organized by the Finnova Foundation through Startup Europe Awards, a program endorsed by the DG Connect of the European Commission and promoted by Finnova with the collaboration of Women For Tech and Startup Europe Accelerator, and the Cabildo Insular of Fuerteventura through the AFRIMAC 2 project in order to select the best business and innovation projects and initiatives in the field of female entrepreneurship.


August 31, 2022


PARTICIPANTS from third countires