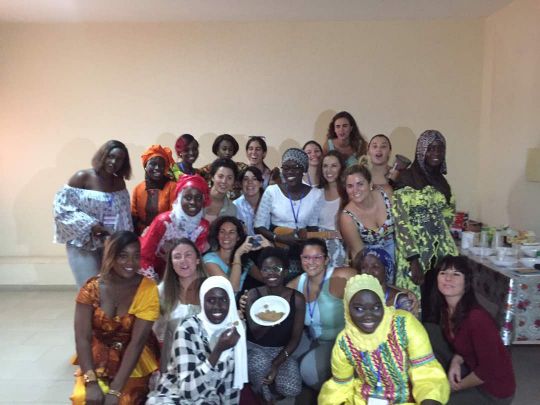 Day 5. Celebrating Thiaba's birthday
Friday, September 22, 2017
First week of training accomplished and so far it has been a success, finishing with the Technological Innovation syllabus, in which we have reviewed the concepts of the previous days and strengthen all the concepts given by practicing in small groups.
Later we chose one of the projects of our Senegalese colleagues. In small mixed groups we answered some questions in order to improve their projects applying some of the knowledge gained in class on the subject of innovation. Finally we presented our results to the whole class.
In the middle of the morning we made a break to celebrate the birthday of one of our Senegale fellow, Thiaba , and we sang a Canarian Polca being composed by ourselves in different languages, while dancing in the traditional way of both cultures.
After lunch, we returned to our class to keep working on the agenda. We would like to highlight that both groups were overwhelmed with the amount of hours of training, especially after the meal break . So that, we all agreed that the schedule should be reduced for next editions, but this is obviously not in our hands.
We finished the day of training with an agreement to visit our Senegalese colleagues the next day to their homes since we all liked the idea to get involved into their environment and culture. Once in the hotel, after a brief moment for shopping, most of us decided to rest early. Hoping to be full of energy for our weekend adventure, we are eager to discover the surprises awaiting for us in the dazzling Senegalese atmosphere. We expect a very intense day tomorrow in the company of our companions.
To be continued.
Sonia y Natalia