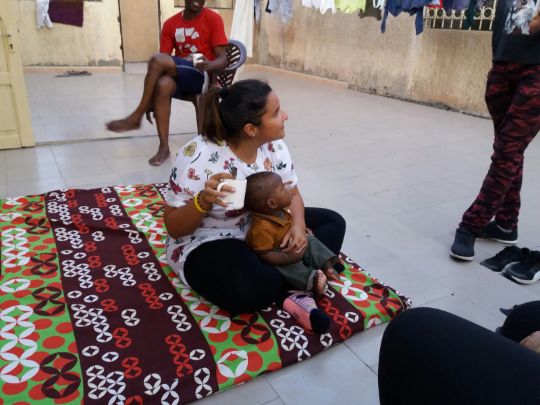 Day 6. Enjoying Senegalese hospitality and main touristic points of the country
It seems like the weekend is here. The Senegalese participants of AFRIMAC invited us today to their places. After a good breakfast we get ready to go deep into the Senegalese culture.
In pairs or in groups of 3 people we go to visit the girls and spend the whole day with them. Some of girls live in the city centre while others live in the surroundings or even close to the sea.
We all agree that it has been one of the greatest days lived here in Senegal. We experience the Senegalese "Teranga" (their characteristic hospitality).

In general, later then a warm welcome, we took part in a typical familiar Senegalese lunch, visited the most famous interesting cultural monuments, or even spent the day close to the Atlantic Ocean.
For instance, Natalia, Sonia and me had the opportunity to live for a day as a Senegalese alone with Moussou. We went to his house, where we met her neighbours and got ready to go to the "Lac Rose" which means "pink lake". After taking three buses we arrived, and there in the middle of a beautiful village there was the big lake with pink water. As they explained us, this is due to the algae that their waters contain. After we sailed the lake in a traditional canoe, observing at a close range how they get the salt.
On our way back to the city we stopped at a zoo called "Park Zoologique de Hann", where there were a lot of different and strange animals like hyenas, lions an even boars.

In resume, we spent a very nice day visiting new place ended with one of the best ways: with braids on our hair and a delicious Senegalese tea at Moussou´s place.
Senegal is a land of traditions where its people share a strong sense of familiarity and welcoming.