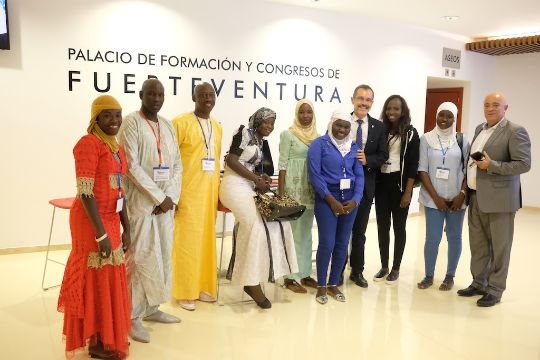 Day 8. Africagua forum
Monday, november 6, 2017.
At 8am, we paid the breakfast and direction to the Fuerteventura congress palace to attend the 2017 edition of Africagua, a world forum on water and renewable energies having to honor Senegal.
After the formalities of use at the reception (withdrawal of badges, notepad, program, etc.), we attended the opening ceremony which started at 09:30 and led by:
Martialo morales President cabildo of fuerteventura

Mamadou sow, the ambassador of Senegal in Spain

Paolo dasylva, ambassador of guinea bissau

Soledad Monzo, Education Advisor to the Governor of the Canary Islands

Nicolas Gutierrez, Mayor of Puerto Rosario

Antonio Rodriguez Marshal, Camara de Commercio

Luis Padron Lopez, General Manager Casa Africa
After the ceremony, there followed a short break of 5 minutes allowing the next presenters to take place. They were Eric Lancelot of the World Bank, Mariano Munioz Carpena of ICEX (Institute of Foreign Trade) and Alexander Reupp of RECP (Program of Cooperation in Renewable Engineering in Africa-EU).
Coffee break.
The presentations continued and at the same time there were «B2B» for those who wanted to discuss in private their respective projects until 1:15 pm lunch break.
Lunch At 14:15, BARRY Liner Director of WEF (Federation) began the presentation of his company.
At 14:45, the ceremony continues with Me Alioune Badara Cissé mediator and head of the Senegalese delegation, guest country of honor and represented by:
Sophie Gladima Minister of Energy and Mines

Mr Seth sall director of the digital economy representative of the Ministry of Posts and Telecommunications

M.birame faye director of AEME

Mr. Djiby Ndiaye director of ANER

M.baba diallo, director of ASER

Mr Hamidou hanne plan Senegal
They took turns speaking for their respective companies and Mr SALL presented the women of Afrimac. Subsequently, they went to another room to discuss with Ms. Coumba Ndiaye, and Ms. ICT Advisor on the follow-up of their projects and opportunities that could arise.
At the same time, the presentations continued in Room A with:
Canararias Technological Institute (ITC) – experience in water and renewable energies in Africa represented by Gonzalo Piernavieja director of the R & D division

COP23, the companies through the climatic changes represented by Laura AGROUM, representative of the Commission of Medioambiente of CGEM SM

Financing support instruments:

Center for Industrial Technological Development

CDTI: María José Tomás Sánchez, Director of Promotion and Cooperation, Department of Health, Bioeconomy, Climate and Natural Resources

 CESCE: Alvaro Portes, Territorial Director of the South: Andalusia, Extremadura and Canary Islands. Risk management resulting from the internationalization process

COFIDES: Raúl Moreno Castro, Coordinator – Direction of Financing of Desarrollo and European Management.

Achievements

17:00 – 17:15: Infinite Fingers GmbH (Germany)

17:15 – 17:30: Elementary Water Manufacturers (Holland)

5.30 pm – 5.45 pm: Practical Action UK (United Kingdom)

17:45 – 18:00: ECOS Environmental Studies and Oceanography S.L. (Spain)
Photo shoots were taken during the day with: the mediator of the republic and his wife, the President of the Cabildo, Mr Paez, the Ambassador of Senegal in Spain, the consul, Mr & Mrs Sall, Mr Carlos, Mr Marithial etc.
Marieme Ndiaye