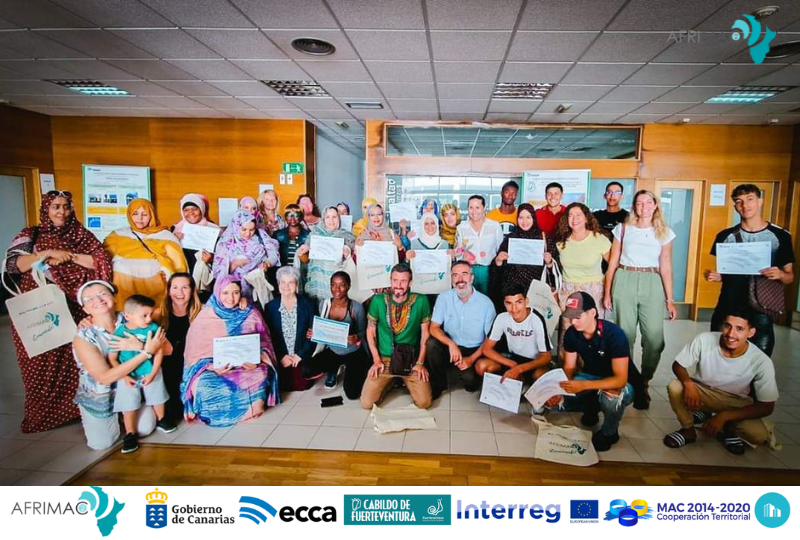 93 PEOPLE OF 16 DIFFERENT NATIONALITIES LEARN SPANISH THANKS TO THE AFRIMAC 2 'COMUNÍCATE' COURSE


june 23, 2022
93 people of 16 different nationalities have learned the Spanish language as a tool for social inclusion and access to employment. This has been possible thanks to the 'Comunícate' course that was launched by the Afrimac 2 project led by the Minister of Finance, Economic Promotion and Employment of the Cabildo, Lola García, as well as Radio Ecca Fundación Canaria.

Language can be an important barrier that leaves the person out of any citizen participation. For this reason, the Cabildo Majorero and Ecca have given the opportunity to foreigners who have decided to live in Fuerteventura to learn the basic knowledge of the Spanish language and the customs of their new place of residence and to achieve full inclusion in the society that they live in. welcomes

The student body came from countries such as Morocco, Senegal, Nigeria, Italy, Sahara, India, Poland, Slovenia, Great Britain, Guinea, Russia, Egypt, Paraguay, China, Uganda and the Ivory Coast.

The island councilor Lola García explains that "language is a key tool for inclusion. Fuerteventura is an inclusive society, so we wanted to help all these people with something basic such as being able to communicate". In addition, she adds that "participants are thus provided with the basic knowledge to be able to function efficiently in elementary and everyday situations."

The course has been successfully closed, after taking the north, center and south of Fuerteventura since last April, with on-line and face-to-face sessions in Corralejo, Puerto del Rosario and Morro Jable. Participation diplomas were handed out at the event and students and attendees enjoyed a day of familiarity with the tasting of products from the students' countries, especially Arabs.