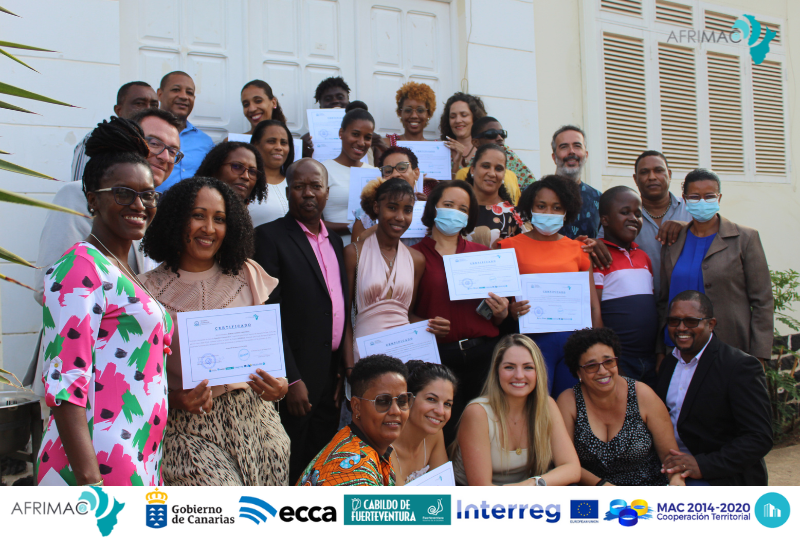 ALMOST 450 PEOPLE FROM CAPE VERDE ARE TRAINED IN TOURISM SPANISH AND ENGLISH THANKS TO THE AFRIMAC 2 PROGRAM


june 23, 2022
Almost 450 people from Cape Verde were trained in languages ​​thanks to the Cabildo de Fuerteventura and its AFRIMAC 2 project.

Three hundred were the people who were trained in tourism English, acquiring a useful knowledge of English to improve their effectiveness in the world of hospitality and tourism, the main economic sectors of the country.

On the other hand, the AFRIMAC 2 course 'Communicate' was moved to Cape Verde, with the participation of 148 people. It is a basic level Spanish language course in which different profiles were trained such as workers in the tourism sector, businessmen, merchants and future students in Spanish-speaking countries, among others. This last program was also successfully carried out in the north, center and south of Fuerteventura, with the aim of facilitating the social and labor insertion of almost a hundred people.

The director responsible for the Strategic Projects department, Lola García, has highlighted the value of this action for educational, professional and social development, within a project that seeks to position Fuerteventura as an intercontinental platform for research and development.

The certificate delivery ceremony was attended by the delegate of the Ministry of Education of Praia, Doña Constantina Alfonso, the deputy director of the Cooperation and Social Action area of ​​Radio ECCA, Ana Giménez, the Minister of Equality, Social Policies and Resources Humans of the Cabildo, Adargoma Hernández, and the National Director of Education, Adriano Moreno.

The training in Cape Verde has been possible thanks to the cooperation of RADIO ECCA and the National Directorate of Education (DNE), committed to building capacities and promoting entrepreneurship, through non-face-to-face educational and awareness tools that are in line with the local market needs. This action is part of the actions programmed by AFRIMAC 2 to improve the competitiveness of companies framed in the Cooperation Program INTERREG V-A Spain-Portugal MAC (Madeira-Azores-Canary Islands) 2014-2020. 85% of the AFRIMAC 2 budget is financed by FEDER Funds.



GALLERY OF THE DELIVERY OF DIPLOMAS