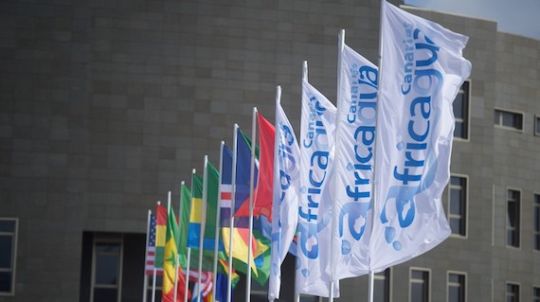 africagua
AFRICAGUA, biennial international forum focused on water and renewable energies.

This meeting, which brings together the private and public sector interested in seeking out and developing opportunities in West African countries, will take place in Fuerteventura – Canary Islands.

Africagua is a wonderful opportunity to reinforce the internationalisation of renewable energy and wáter treatment companies that seek to show the great potential in terms of knowledge and experience of West Africa. Likewise, it is an excellent occasion to establish contacts that develop new cooperation projects with other countries.

In previous editions, institutional and business representatives from Senegal, Mauritania, Cape Verde, Morocco, Guinea-Bissau, Equatorial Guinea, Togo, Ghana, Nigeria, the United Kingdom, the United States, Germany, Portugal, France, Holland and Norway attended, as well as the World Bank, the Moroccan Agency for Solar Energy (MASEN), the Brussels Alliance for Rural Electrification (ARE), the Agency for the Promotion of Universal Access to Services (APAUS), the African Renewable Energy Alliance, and the Infrastructure Project Preparation and Development Unit (PPDU) of the Economic Community of States.

The Intra-Island Council of Fuerteventura, through AFRIMAC, has committed to collaborating in the development of this forum, which has become an effective tool for companies to connect with the African market, contributing towards projecting the Canary Islands as a tri-continental business platform for any business person interested in doing business in the neighbouring continent or seeking trustworthy "partners" to do business for them.

Visit the wesite of Africagua to learn more about this event!